The Career Boost Programme connects Science, Engineering and Technology graduates with real jobs in innovative SMEs. Previously known as the InterTradeIreland Graduate Programme, Career Boost has been successfully offering Innovation Project Management jobs since 2001. Just like you, each job is different and can be based anywhere on the island of Ireland. You choose which role you want to apply for depending on your experience and qualifications.
Careers Boost is connected by InterTradeIreland.
InterTradeIreland is funded by both NI & ROI Governments to support SMEs to identify and develop North/South trade & innovation opportunities.
You Earn
Employed as a project manager for 12-18 months, you will be ambitious and up for a challenge.
But that's not all.
You Learn
To ensure you achieve your potential, you will be supported by advice from an expert University or College partner with a real interest in your success. We also value your personal development that's why each role has a training budget. You decide what will enhance your technical qualifications and in addition we support you to develop your personal, professional and managerial capabilities with a fully-funded Postgraduate Diploma.
You Matter

There's potential to secure a permanent management position in an ambitious company, build your connections and boost your career.
GradIreland Award Winner
The Career Boost programme has taken home the Graduate Employer of the Year (more than 40 intake) award at the 2020 GradIreland Graduate Recruitment Awards.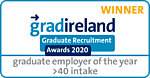 You must have a degree or diploma which matches the criteria of the position being advertised by the company as roles do vary. In some cases, you may be required to have relevant previous experience in the industry.
Have a look at some of our graduates who we have worked with here. This will give you an idea of the project they worked on and the outcomes.
Enhance your business & technical qualifications
Career Boost gives you the opportunity to undertake a Postgraduate Diploma in Business & Management at Queen's University, Belfast which is fully funded by InterTradeIreland. The skills learned through the Diploma will enhance your personal, professional and managerial capabilities and will provide you with the necessary and valuable business skills that you will require to help you undertake your project role, benefitting not only you but the company as well.
The company will fully support you throughout this by allowing you the required time off for courses and workshops.
Along with the Postgraduate Diploma you will have further access to a training budget which you can use towards further management training & courses, attending events & exhibitions and to pursue other technical qualifications.